As a prospective or 1st year student, or even a 2nd year who's had the joy of online teaching for the majority of your university experience, then this post is for you! With the help of some friends and fellow blog interns, I've come up with a few of the best study spots in Newcastle. Whilst you may have heard of some of these, there are some hidden gems that I've discovered that I'm kindly sharing with the rest of the student cohort…so please don't swarm my favourite study spots all at once!
Central Bean:
I never realised this café existed until my friend and I headed here for some anatomy revision earlier this semester, and now it's our go-to spot! It's not too 'studenty', as it's about 15 minutes from campus, so it's always quiet and there's always room, and if you like a study snack then the sandwiches are great and very reasonably priced! Only downside is that the tables are a little small for group study, but heading here for a solo study session is perfect!
Time central, Gallowgate, Newcastle upon Tyne NE1 4SN. Open 7:30-4pm.
The Hub – 2nd floor students union
This modern study hub is perfect for those gaps between lectures when you want to get some work done but time limits you to staying on campus. This spot has lots of computers, private study pods and nice views across campus at the right time of day. It's super quiet so you're guaranteed to get in the zone here. Plus the co-op and Luther's bar are just downstairs when it's time for a study break or end of the day drink.
King's Rd, Newcastle upon Tyne NE1 8QB. Open 8:30-4:30pm.
Café Nero
This one's a bit obvious BUT hear me out. There are 4 on/near Northumberland Street so you never have to walk far from campus, and if you're with O2 you get a free drink every week. How is that not appealing?! It's a good place to go if you like working with some background noise and it opens super early if you like to get ahead of the curb on your study for the day.
Addresses and opening times vary for each cafe.
The Walton Library Medical Building
I love this library a lot. It's an obvious choice being in the medical building, but there are lots of pros. From private study rooms to collaborative areas, silent study and the café, there is always room to sit and work or chat no matter the time of day. It opens early and closes late so it's a good choice for long-haul study sessions, and the 5th floor views are lovely! That being said, be prepared to wait a while for the lift if you don't want to tackle the stairs!
5th Floor, Medical School, Catherine Cookson Building, Walton Library, Framlington Pl, Newcastle upon Tyne NE2 4HH. Open 8:30-10pm.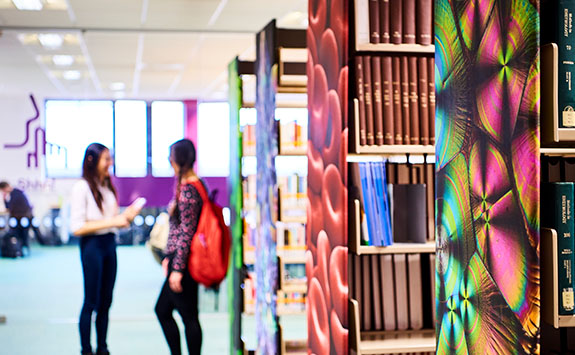 Journey Café Bar
This is a great spot for meetings or collaborative study as there's a very 'worky' vibe, the tables are spacious and there are lots of plug sockets. Whilst the drinks are lovely, it's a little pricier but worth it for the study environment. However, it opens at 12 and turns into a bar later in the evening, so depending on your study schedule you may want to switch spots half way through!
7-9, Higham House, New Bridge St W, Newcastle upon Tyne NE1 8AN. Open 12-10pm.
The Dame Margret Barbour Building
Only just opened in January 2020, this whole building feels bright and modern yet quiet and calm – so is the perfect study spot when you want a nice back drop! There's a collaborative study on the ground floor, and more study spaces on the 2nd and 3rd, as well as private study rooms, so there's always space. It's at the top of the campus next to the gym so is easily accessible for students in the BNS school. Unfortunately, there's no food and drink here, bar a few dodgy vending machines, so I advise you bring snacks!
Dame Margaret Barbour Building, Wallace St, Richardson Rd, Newcastle upon Tyne NE2 4DR. Open 8-6pm.
Flat Caps Coffee
Flat Caps is a little bit out of the way but that's what makes it all the better as not many people know about it! It has a cosy vibe, decorated with hanging plants and fairy lights, and the food is amazing. It's gets busy around lunch time but if you've bagged a spot then you're good to work away until your hearts content, either studying solo or for with your buddies!
9, 11 Carliol Square, Newcastle upon Tyne NE1 6UF. Open 8-4pm.
I know some of us like to keep our study spots secret…but if you have any new discoveries or suggestions you'd like to recommend to fellow students then get in touch and we can add your favourite study spots to our post!